Ninja Robots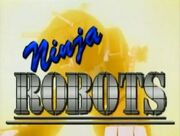 , also known as
Ninja Senshi Tobikage
(忍者戦士飛影,
lit. Ninja Warrior Tobikage
) and
Ninja Robot Tobikage
, is a
Japanese
anime
television series, produced by
Studio Pierrot
, which aired from 6 October 1985 to 14 July 1986 on the
Nippon Television
network.
It was also broadcast across South Asia, Southeast Asia and Australia (including Bangladesh, Pakistan, India and Malaysia) by Cartoon Network, under the title 'Ninja Robots, across Russia by Ren-TV, across Ukraine by Pershyi Natsionalnyi, across the Philippines by Solar USA after Cartoon Network Philippines removed it from it airwaves, across France by TF1, under the title Tobikage, and across Chile by TVN de Chile, Mexico by Televisa Canal 5 and Peru by América Televisión 4.
The Cartoon Network version was created pproximately 10 years after it was originally aired in Japan. The dubbing directors also changed the opening theme, and made numerous significant changes to the characters and robots involved. For example, Tobikage's name in the English dub is Cybertron. The English dub was produced and recorded at Sonic III Studios in Miami. Main character actors included Omar Garcia as "Joe" and Kelly Parker as the princess of Planet Radorio. The English script was loosely translated from the original Japanese and adapted by the actors and interns on the day of recording.